Among the gazillions of resources out in the world, here are the ones I have found myself gravitating towards over the years.
Books
Websites with many recipes
A few recipe links
Seed Crackers
Drinks
Dips
Pasta
Potato-leek breakfast casserole which looks scary awesome but I haven't tried

Legumes, tofu and other protein
Black eyed peas sauteed with a tomato pureed, paprika, red pepper flake, pepper and salt.
Desserts
A list of some favorite ideas:
seiten strips sauteed with vegan worcestershire sauce, soy sauce, garlic and chili/ceyenne/onion powders... with wild rice and pea greens!
the last bullet's leftovers sauteed with beans and Lee Kum Kee black bean garlic sauce IN TACO with vegan cheeze and greens!
Orzo stuffed peppers: tomato sauce, thyme, oregano, chili powder, paprika, pea greens and sauteed garlic, mushroom, seitan. Add substitute vegan cheeze by processing macadamia nuts, pine nuts and garlic.
rice, beans and kale!
Trader Joe's tofu burger on a sesame bagel with soy cheese and pan fried greens
A bagel sandwich: half edamame hummus, half cilantro-jalapeno hummus, falafel, tofutti ricotta cheeze, avacado, fresh basil, onion and green pepper
falafel or sunshine burgers in a salad or sandwich !


Fruit and Nut Bowl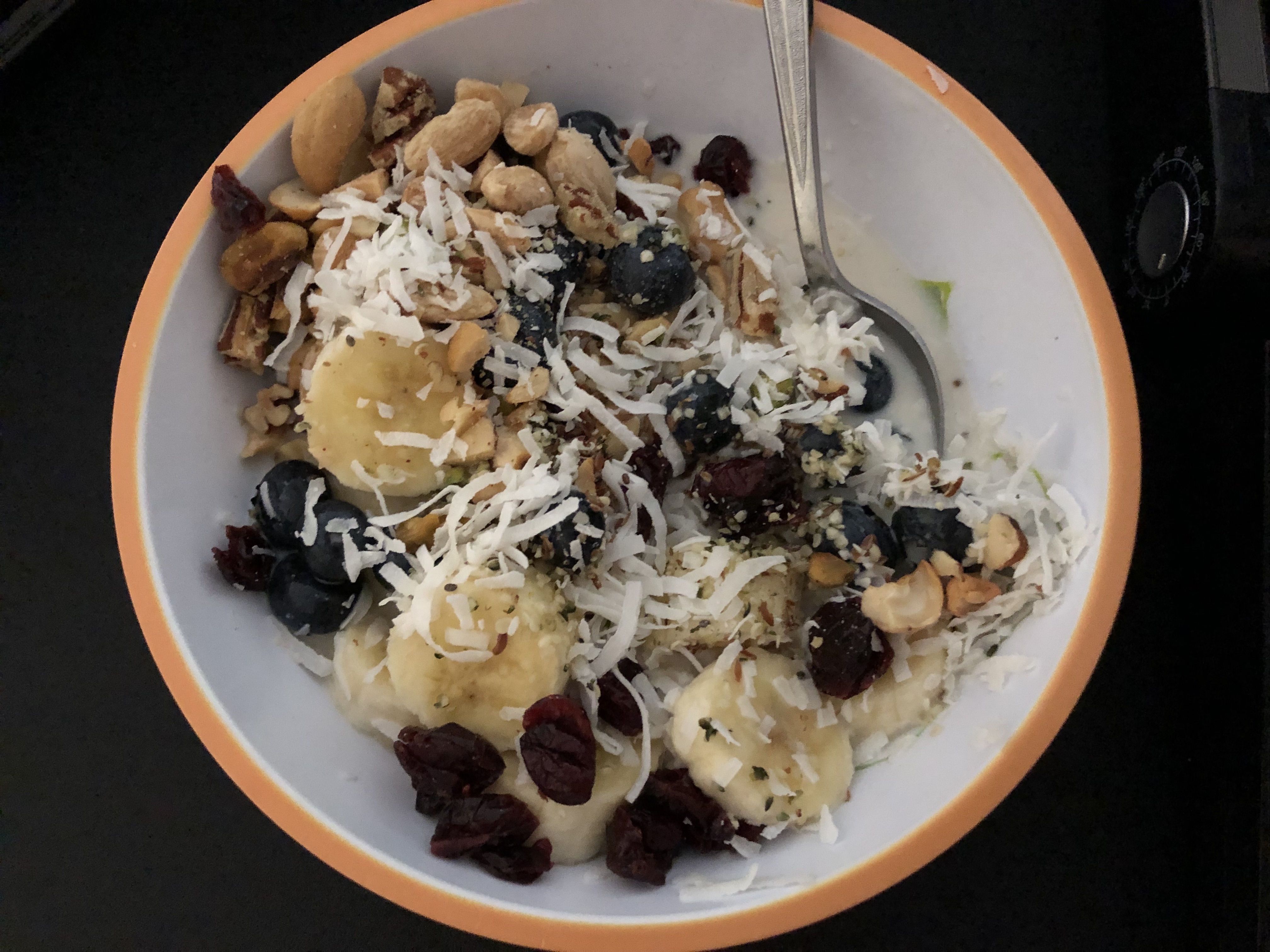 Ingredients:

unsalted mixed nuts, chopped in a food processor
banana
blueberries
unsweetened coconut shreds
hemp seeds
dried cranberries
pitted dates
sprinkled with Barlean's flax chai mix
other options: add peanut butter, or cocoa powder
Super Quick Curry Kale & Potatoes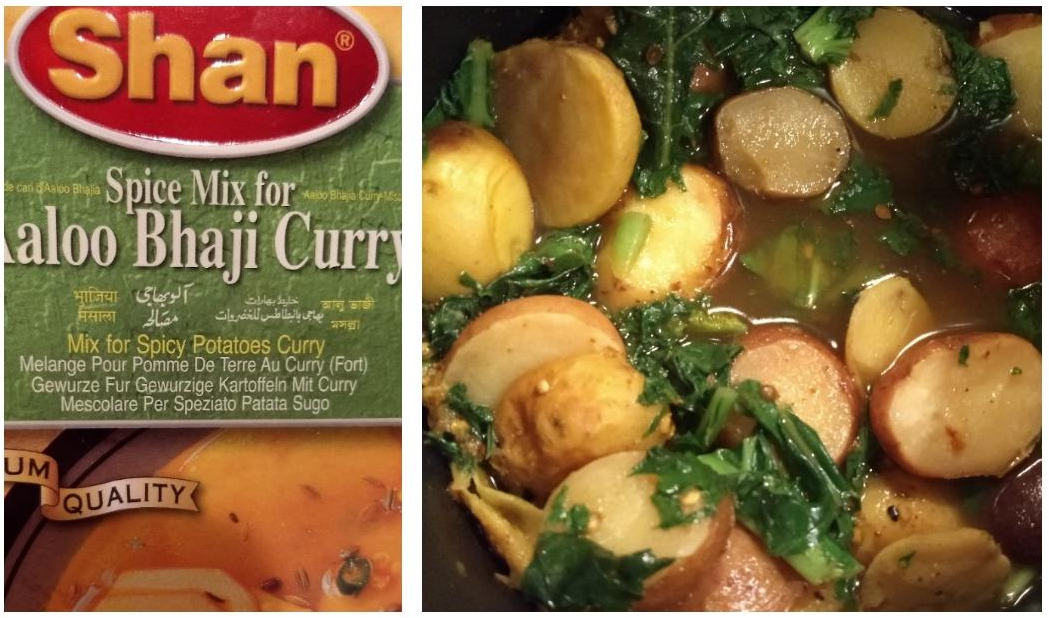 Cut up small potatoes and cook: boil or bake. Optional: add any spices/oil. You can use leftover potatoes or stockpile potatoes for the week -- this makes the recipe Super Quick!
Curry spice pack does not need to match exactly as shown! You can find something similar at your local Indian Grocery store.
Combine in pot:

1 tbsp curry spice for each 1/2 cup of water (double check against spice packet instructions, may vary)
cooked potatoes and raw kale, any amount desired
Boil until heated.

Amounts are easily customized. Add more water/spice if more of a soup consistency is desired.
Contents are easily customized. Use any veg!
Fake Chick'n, Rice & Potato Soup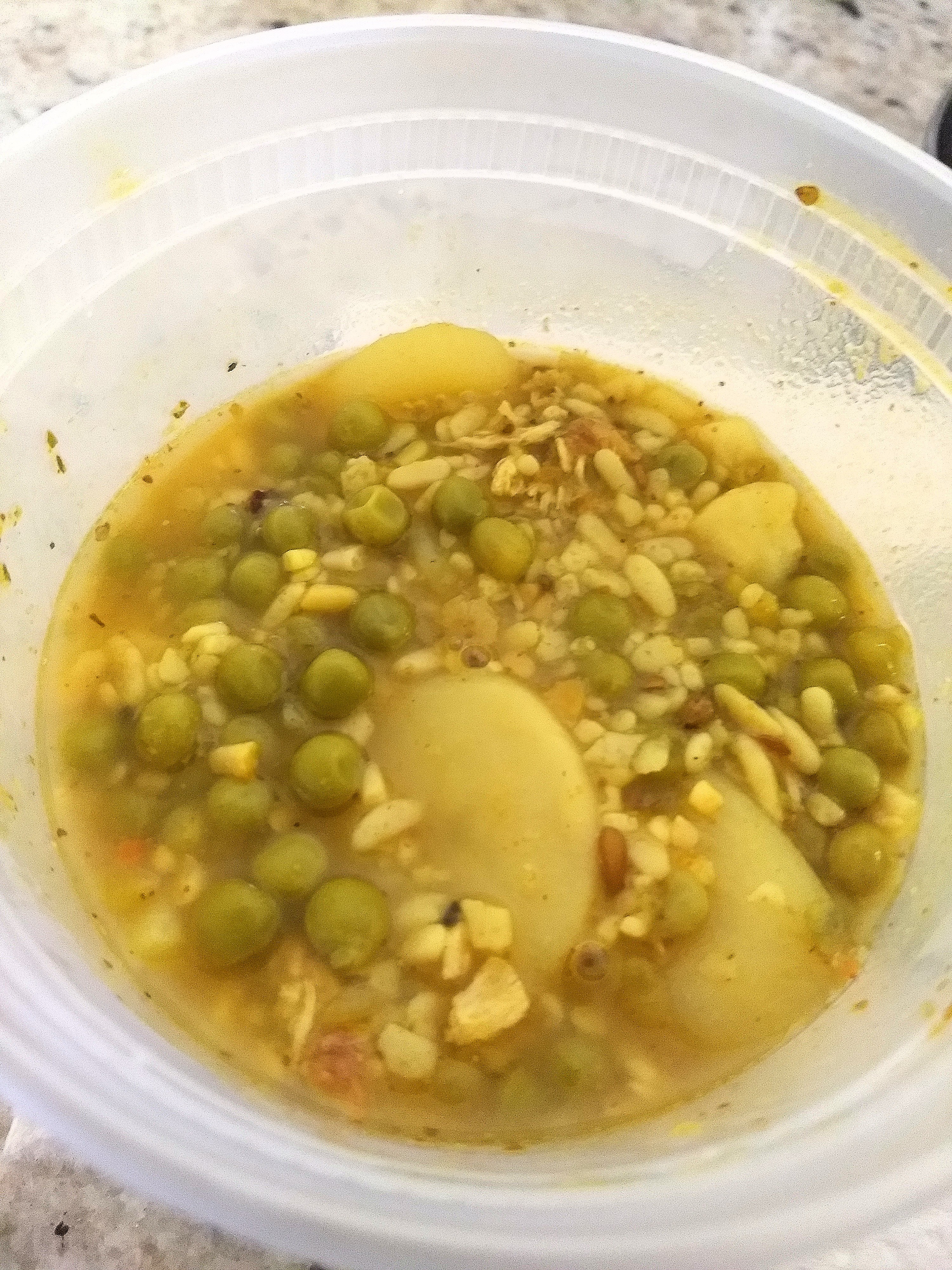 Using the same curry powder in the recipe above, I used some quick ingredients to make a great "sick soup". It tasted so much like chicken noodle, I was really surprised.
Combine in pot, amounts can be adjusted to your preferences:

1 tbsp curry spice for each 1/2 cup of water (double check against spice packet instructions, may vary)
canned sliced potatoes
canned peas
leftover right rice
leftover plant-based chick'n patty (break it up in the soup)
Boil until heated.

Amounts are easily customized. Add more water if the spice is too concentrated. Smash some potatoes to get a thicker soup.
Quick Pesto Cauliflower Stirfry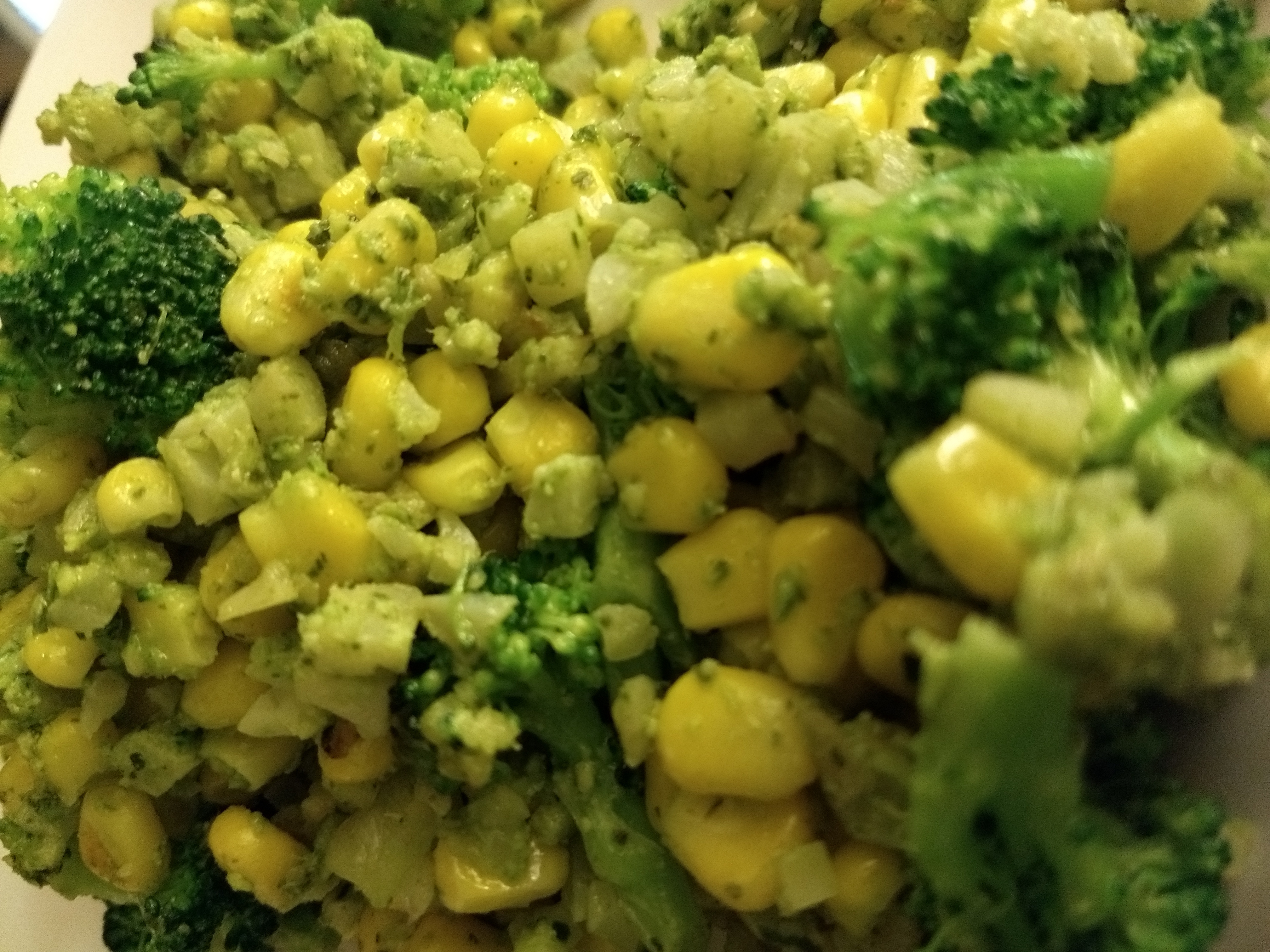 Fry with small bit of oil: frozen riced cauliflower, chopped onion, sweet corn, and brocolli bits.
Once thawed add vegan pesto to the pan, cook for 5 more mins.
Sprout & Veg Stirfry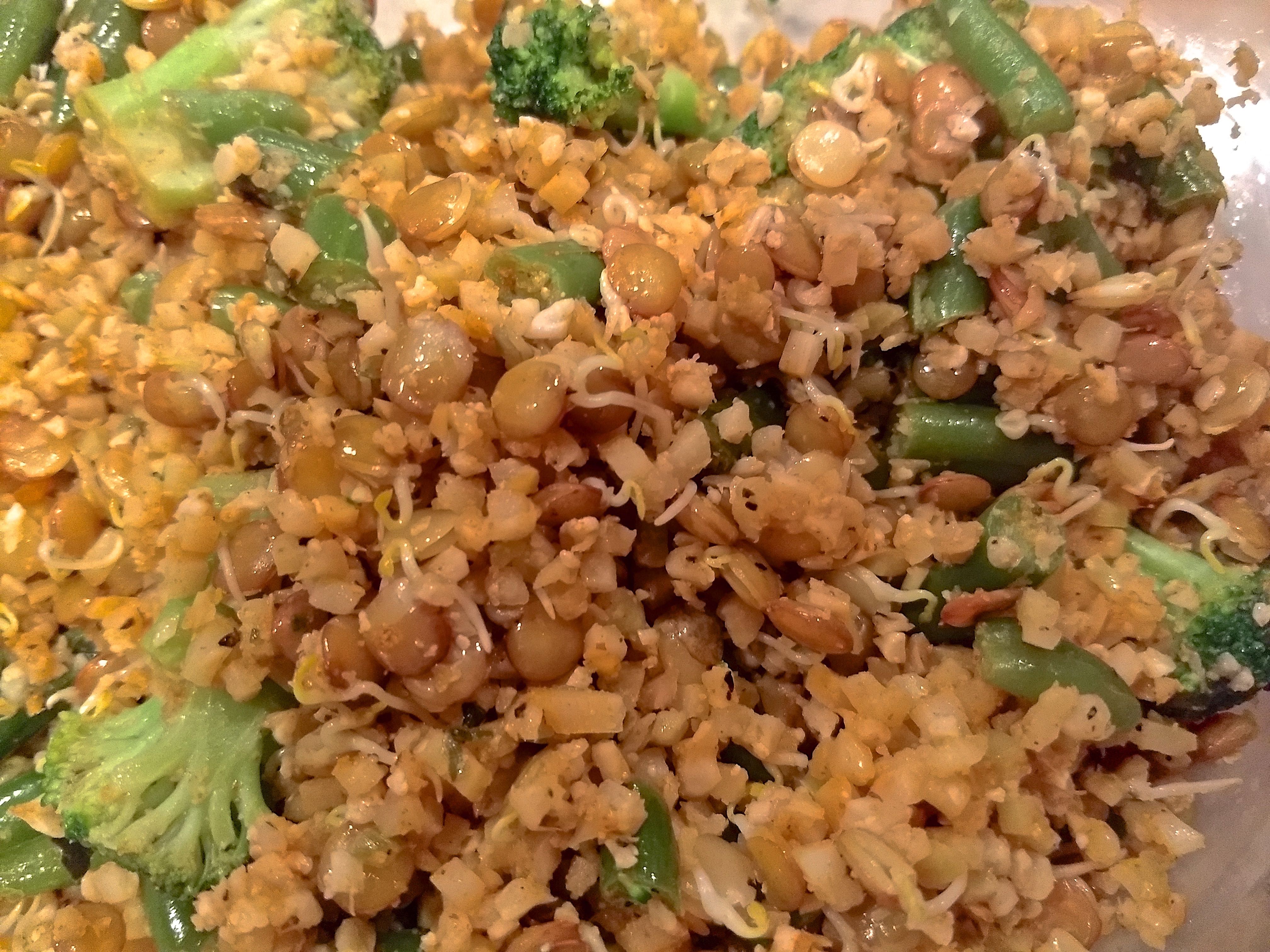 Fry with small bit of sesame oil any green veggies:

frozen broccoli
frozen green beans

Throughout cooking process add spices: garlic, onion powder, ginger, paprika, pepper, salt, other spices you prefer
Once frozen veg almost cooked also add:
Top with fresh greens, if you got 'em!
Soy sauce or Braggs Liquid Aminos will give it that stirfry taste.
Optional: nutritional yeast, ether while cooking or afterward.
Quinoa Vegetable Stew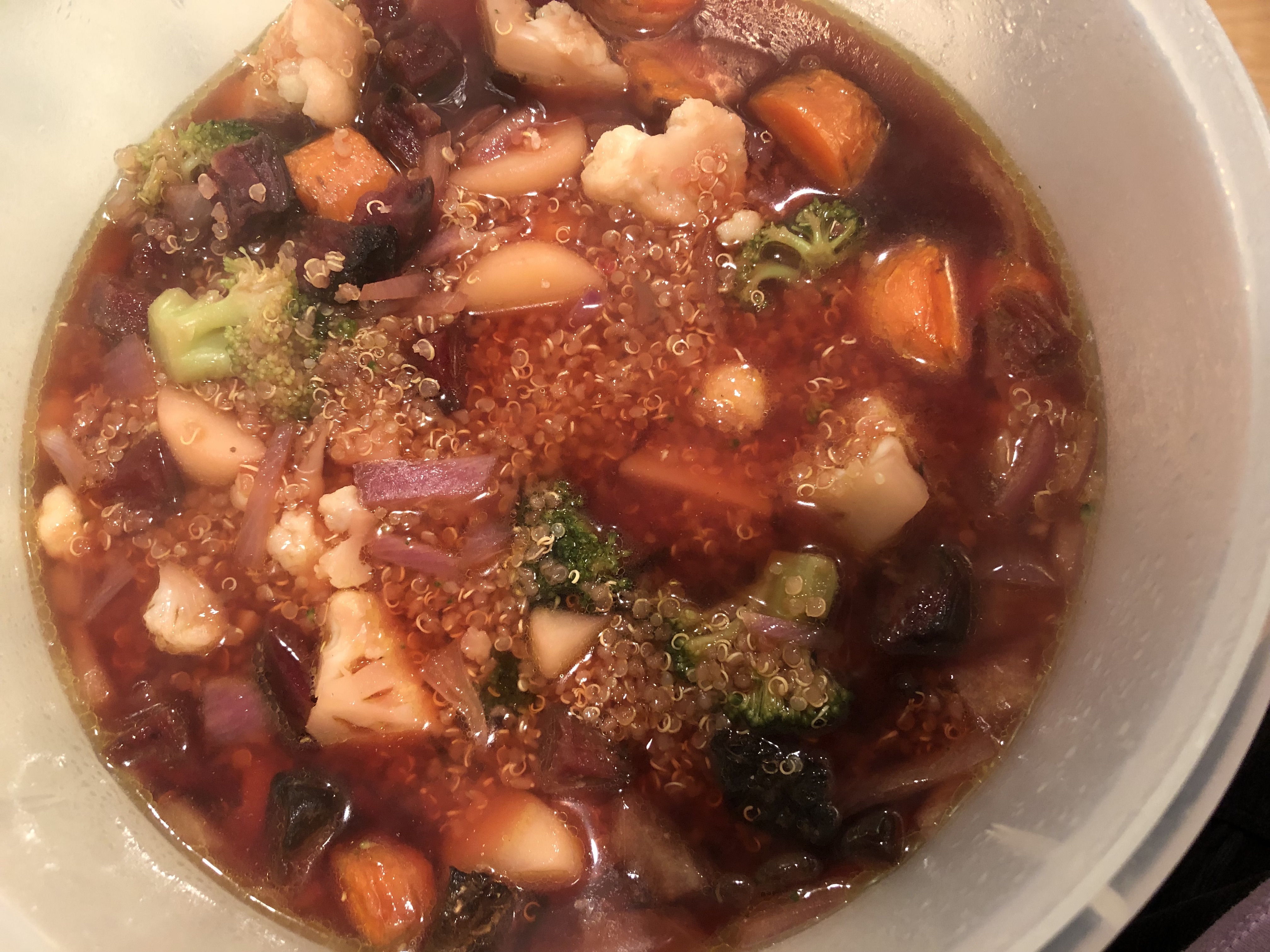 Add cooked veggies of choice: onion, carrot, beets, cauliflower, brocolli, potato
Add cooked quinoa
MEGAVEG Stirfry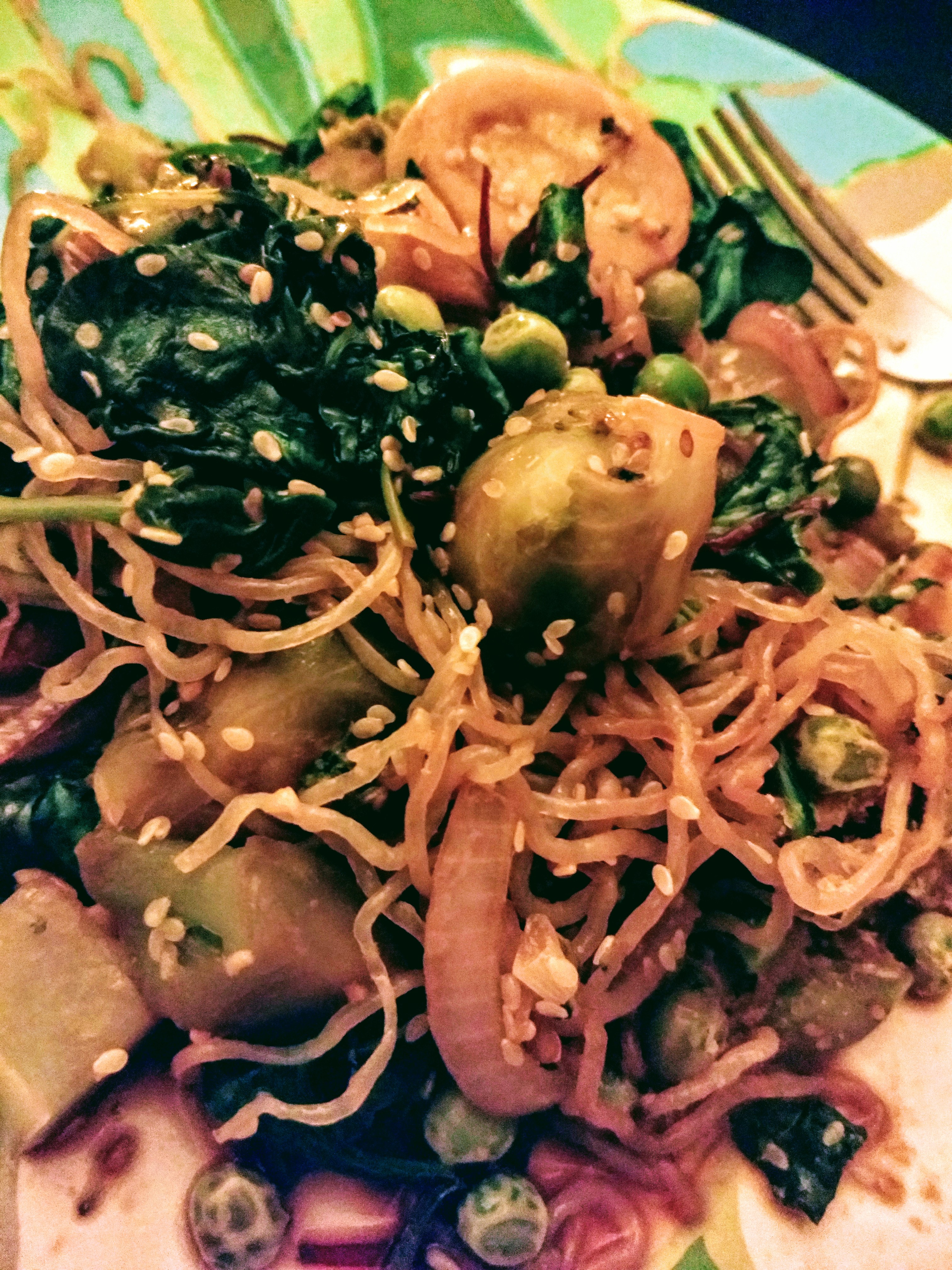 Fry with small bit of sesame oil :

sesame seeds
garlic & ginger
sliced red onion

Also boil frozen veggies:

cauliflower, broccoli, squash/zuchini mix
peas
brussel sprouts

Once the frying pan mix is very fragrant and the boiling veggies are fully cooked, strain the veggies and toss them into the pan with the rest. Mix up and add fresh greens for a few more minutes, adding a bit of soy sauce too.
Optional: nutritional yeast, ether while cooking or afterward.
Vegan Paleo-ish Tacos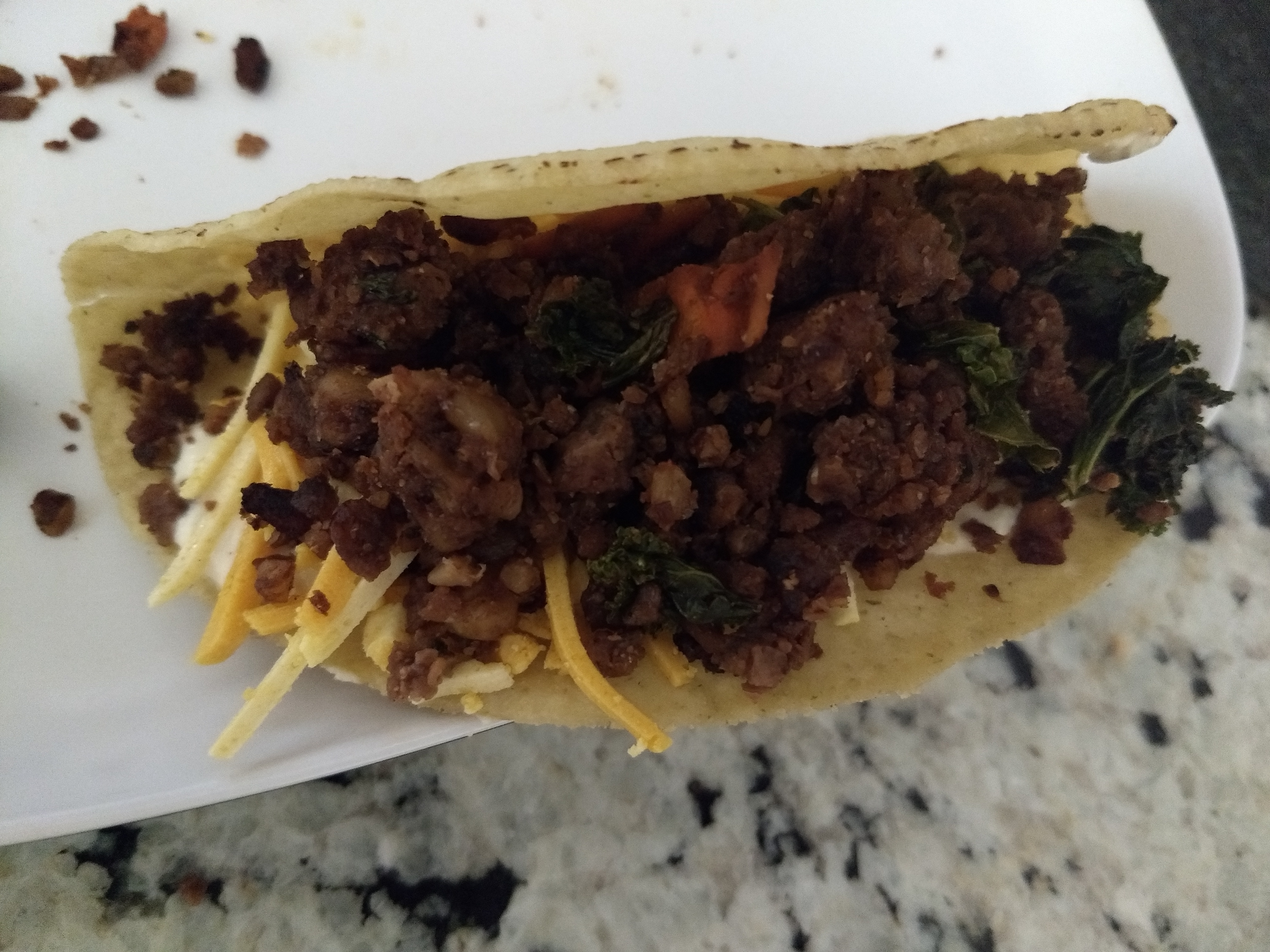 I made this walnut taco mix recipe, but I fried it so it's not raw.
I added a bit of this soy-based vegetable protien mix in order to give it a more realistic taste, but chopped portobello mushrooms also work great.
Added to the saute: garlic powder, chili powder, soy sauce, sliced carrots, and chopped kale
Top with your favorite vegan sour cream and cheese shreds.
Enjoy in paleo friendly taco shells
Jennie's Awesome Pesto Mush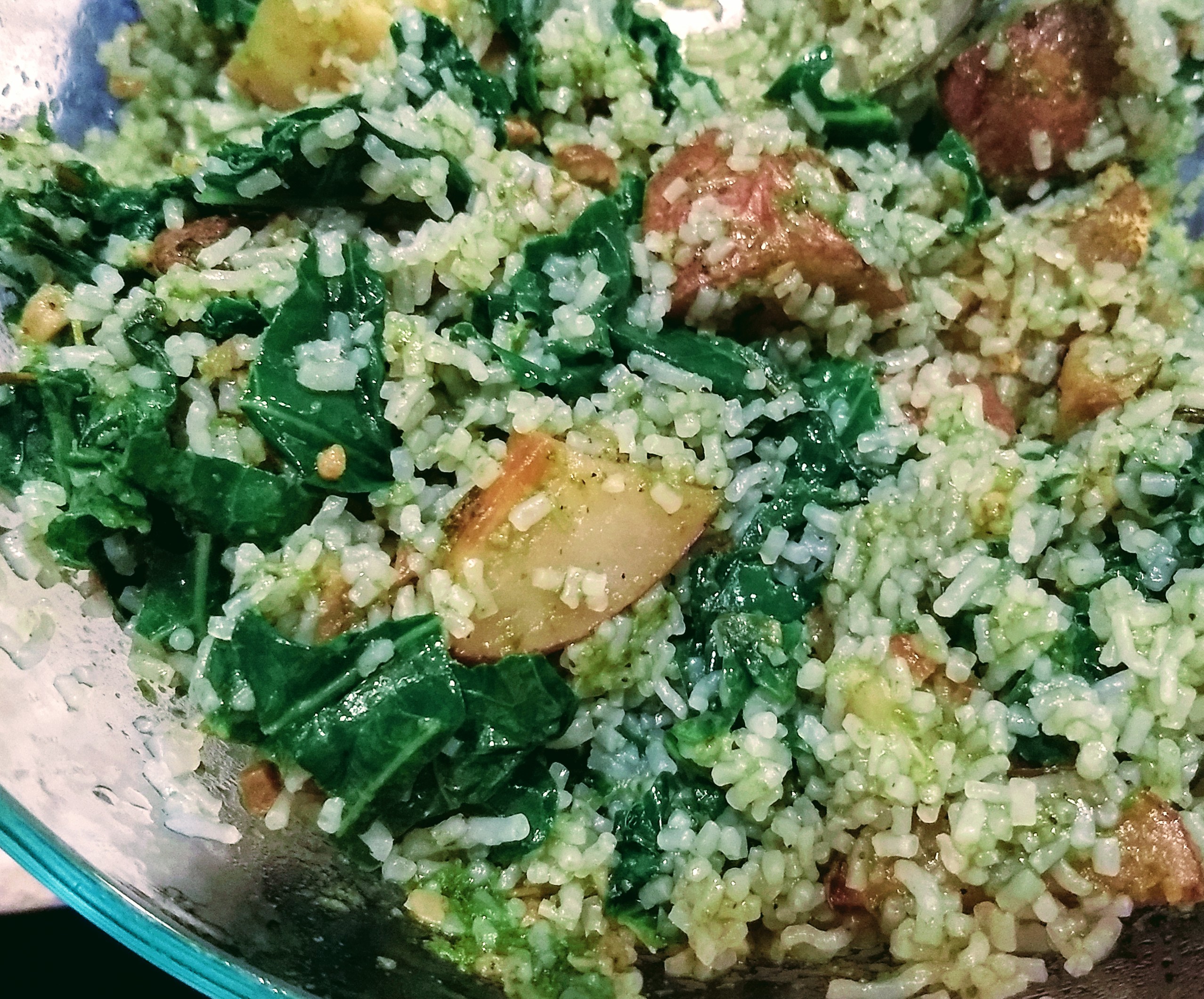 Use fresh vegan pesto from your local health food store.
Mix pesto, amount to taste, together with:

leftover or pre-cooked spiced/baked potato chunks
a package of miracle rice (or miracle noodles) rinsed
a few handfuls of de-stemmed kale pieces

Microwave for a few minutes until heated.
Sesame Delight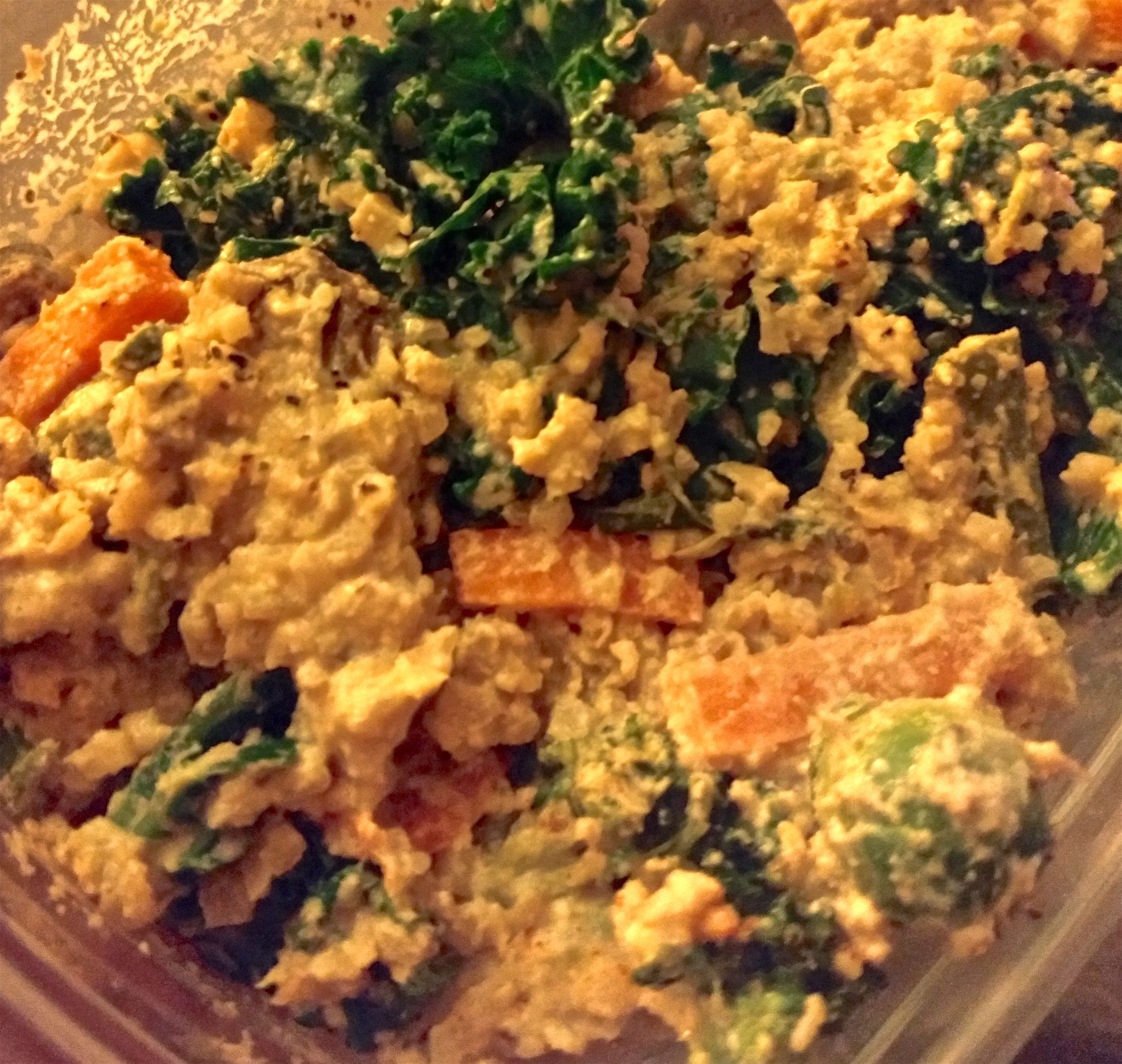 Saute frozen brussel sprouts, carrot, any veg, and sesame seeds too until browned.
Add riced cauliflower too.
Add spices: ginger, paprika.
While above is cooking, mix the tahini miso sauce in a food processor. Below is the rough ratio which you can multiply as needed based on quantity.

1 tbsp miso (any kind)
1 tbsp tahini
generous amounts of garlic and onion powders, whatever seems right!
1/4 cup unsweetened milk (almond, coconut, any)
1/2 cup water

Add the sauce and a little kale into the pan, then let everything warm for a few more minutes.
Jennie's Alfredo-y Dressing


Put the following items into the blender:

3 tbsp Prince Tahini Paste
1.5in cube of Daiya Gouda block cheese
1 handful of Follow Your Heart Mozarella Shreds
1 cup creamy oat milk
1/2 cup water
3 tbsp white miso

The above dressing is the base. Depending on your desired dish add extra flavor such as: pepper, paprika, garlic powder, olives, and/or nutritional yeast
Great on a sauteed chick'n kale salad.
Jennie's Stuff-in-a-bowl Cheeze Sauce


Put the following items into the microwave for a minute, then mix it up with a spoon:

3 tbsp vegan shreeded cheese
2 tbsp tahini (I used pesto tahini)
1 tsp garlic paste
1 tsp miso paste (I used yellow miso)
1/3 tsp bouillon vegan paste
3 tbsp nutritional yeast

If ambitious, use blender and add 3 quartered marinated artichoke hearts.
Good on vegetables or noodles.
Less Boring Salad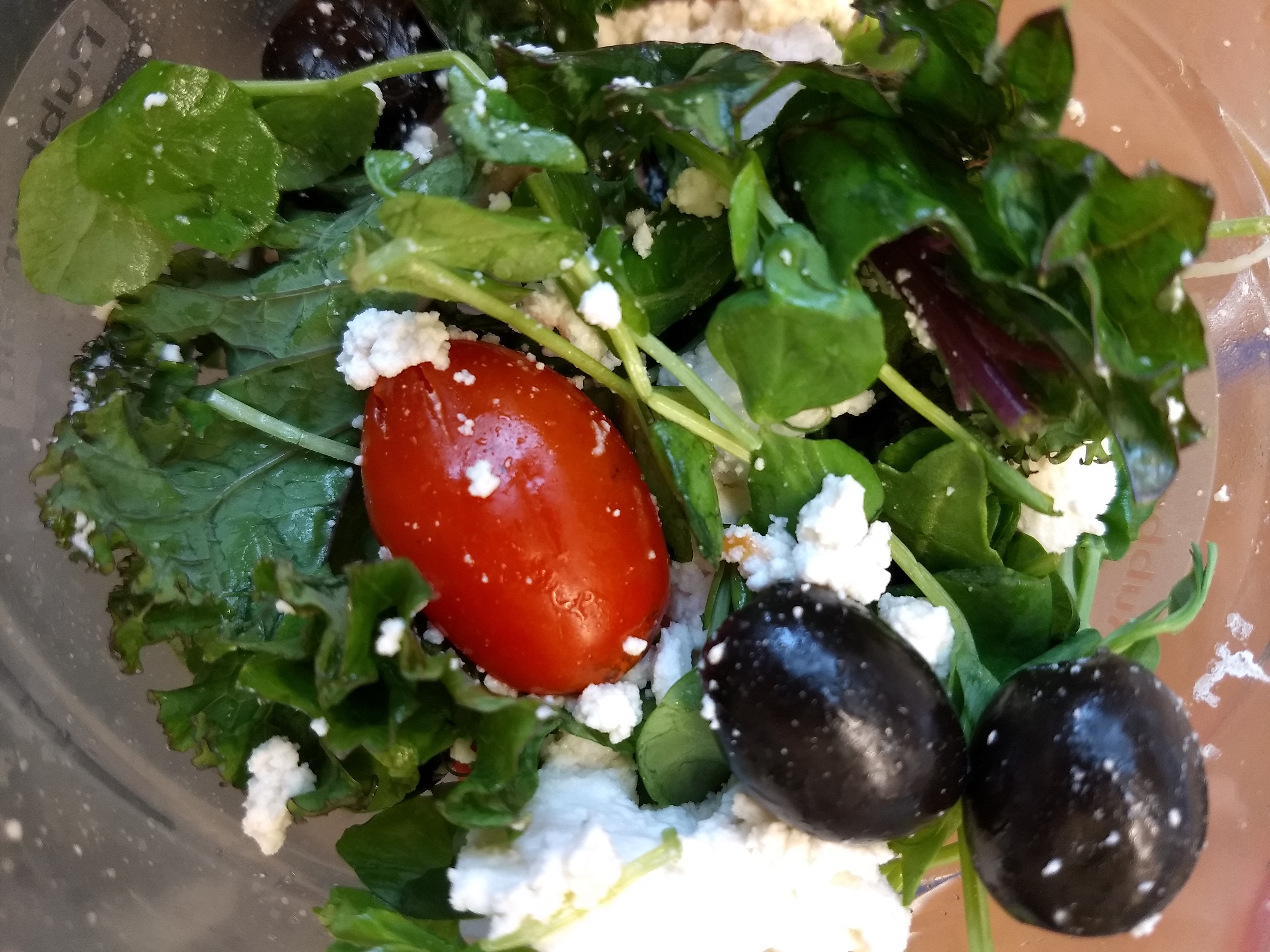 Salads can be boring. Choose greens you are excited to eat like:

Pea Greens!
Red Curly Kale!

Use something yummy like Kite Hill Vegan Ricotta cheese
Add fresh tiny tomatoes, black olives, and walnuts or spiced pepitas!
Tempeh Salad for lettuce wrap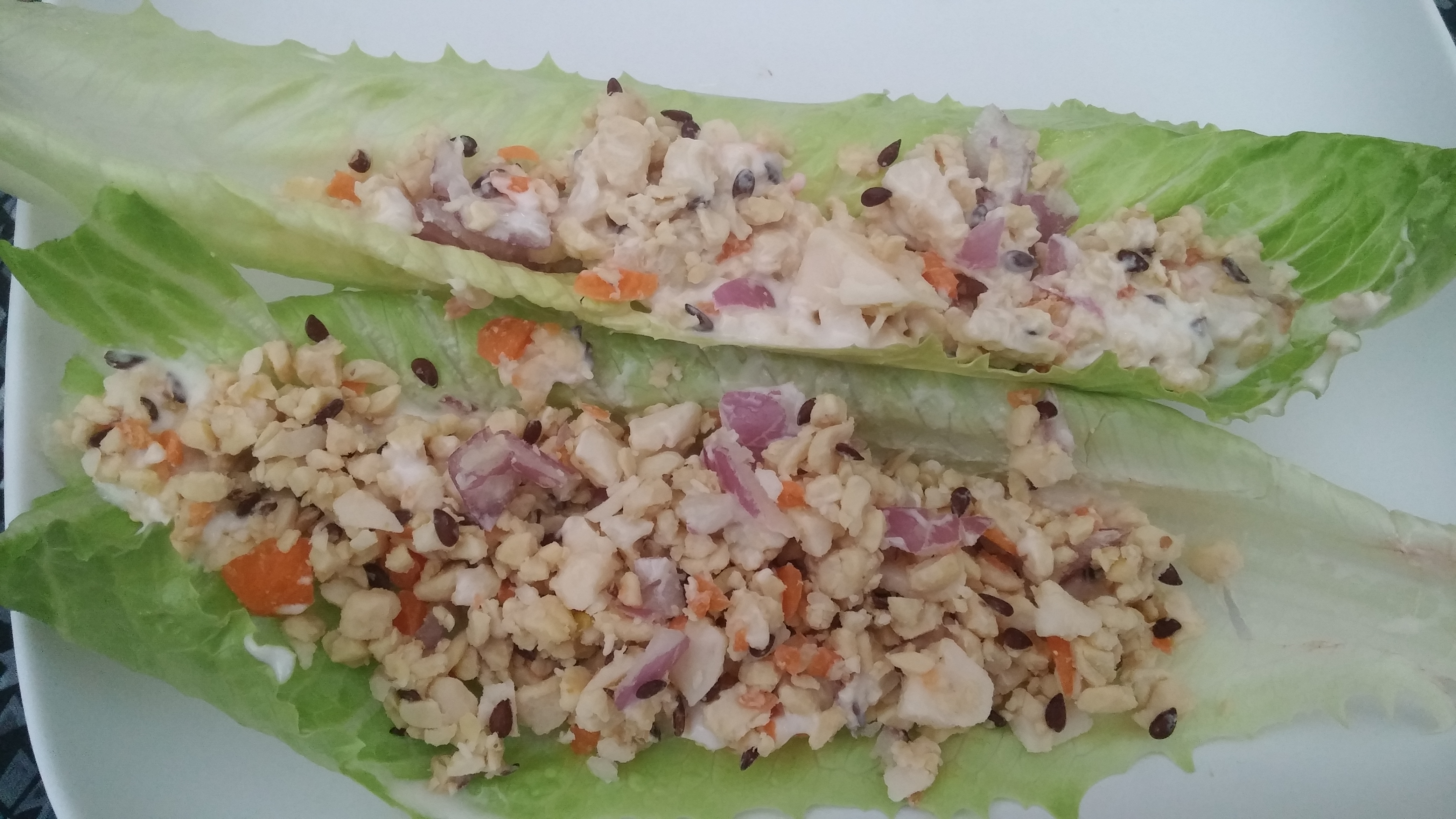 Put in a food processor:

1 block raw tempeh, any type
1 regular sized carrot
1 small red onion
small blob vegan cheese (optional)
Mix processed ingredients with vegan mayo as desired.



Jennie's Awesome Miso Garlic Soup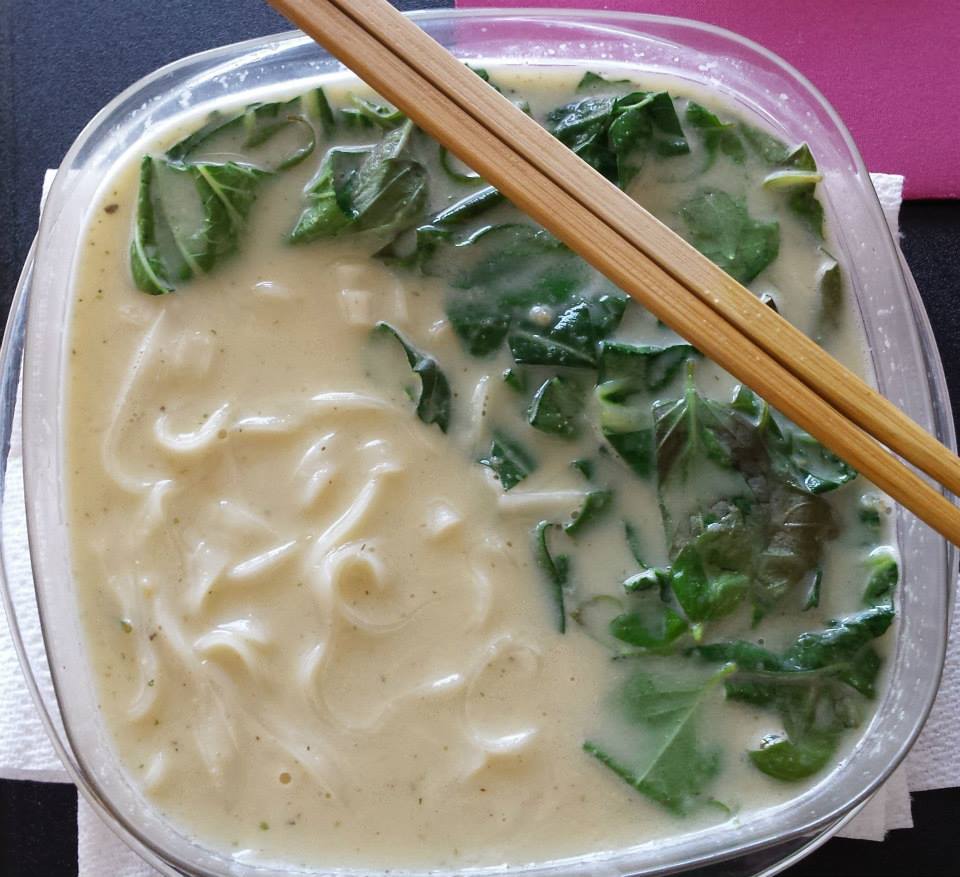 I list this recipe per-two-cups.


Put the following items in a blender
2 cups of water
2 tbsp white miso paste
1 tbsp garlic powder
2 tsp veg. broth base (optional)
Next boil water to cook noodles. Once boiling shut off heat and soak one block of
Mama's instant rice noodles
for two minutes.
Drain the noodles. Finally put everything below into a pot and simmer it all, heating gently until warm enough to eat.
the miso/garlic/broth mixture from the blender
the drained cooked rice noodles
one handful of fresh chopped bok choy leaves
one handful of fresh basil leaves
one handful of small cubed firm tofu
If you want a thicker soup you can put the tofu in with the blender step !! In the above picture I did just that.
Baked & "Breaded" Tofu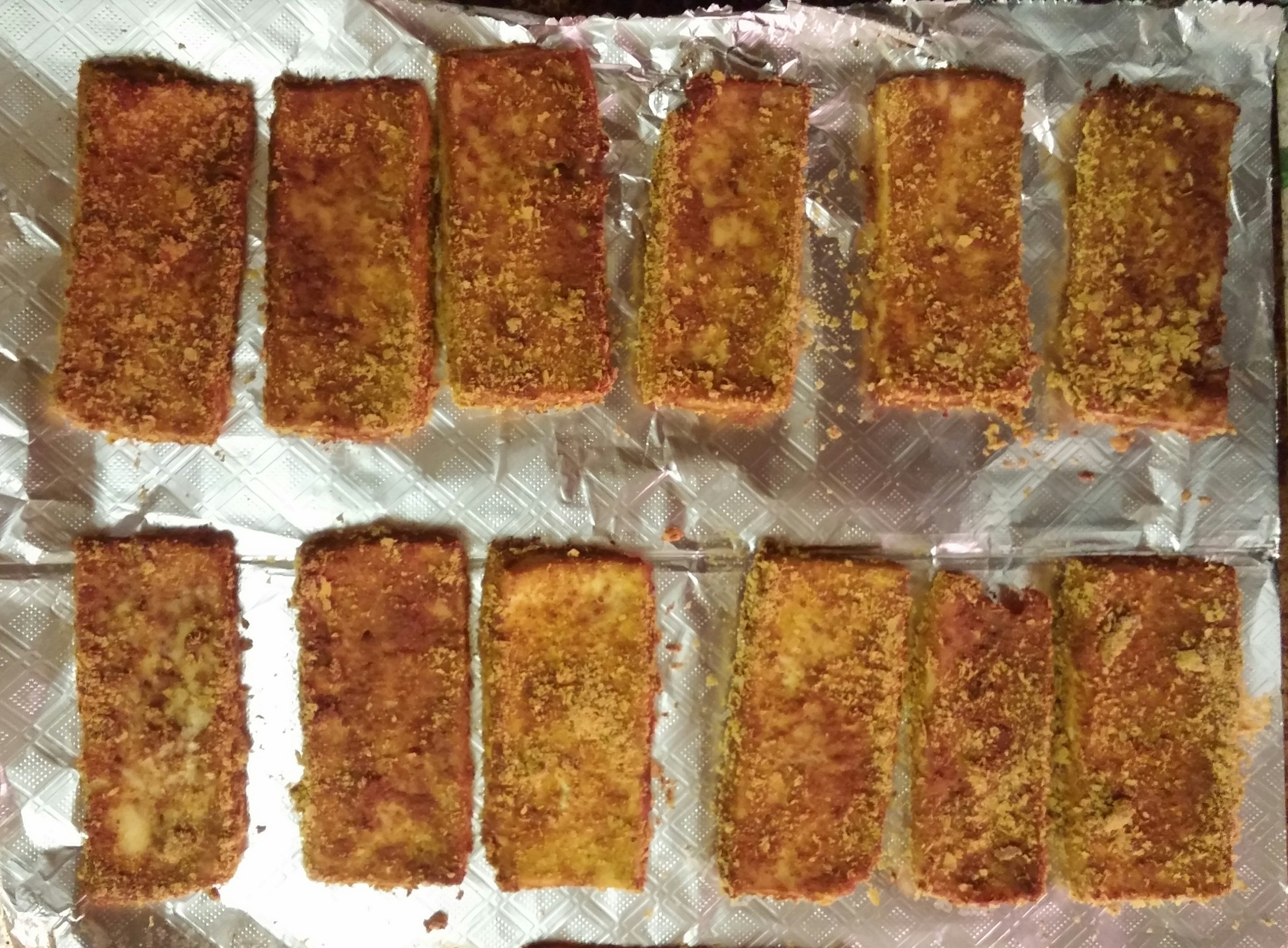 Press a block of tofu for about 15mins. You can do this by stacking a plate and some cans on top of the fresh block of tofu.
Cut the block into slices.
Soak each slice for a few seconds into a pool of soy sauce.
"Bread" each slice using a mix of nutritional yeast, garlic powder, curry powder, and tumeric. (sorry, I didn't measure! use your judgement)
Lay each piece flat and bake at 400-deg for 20-25 mins.
Lentil Cilantro Tahini Spread ("Lentil Hummus")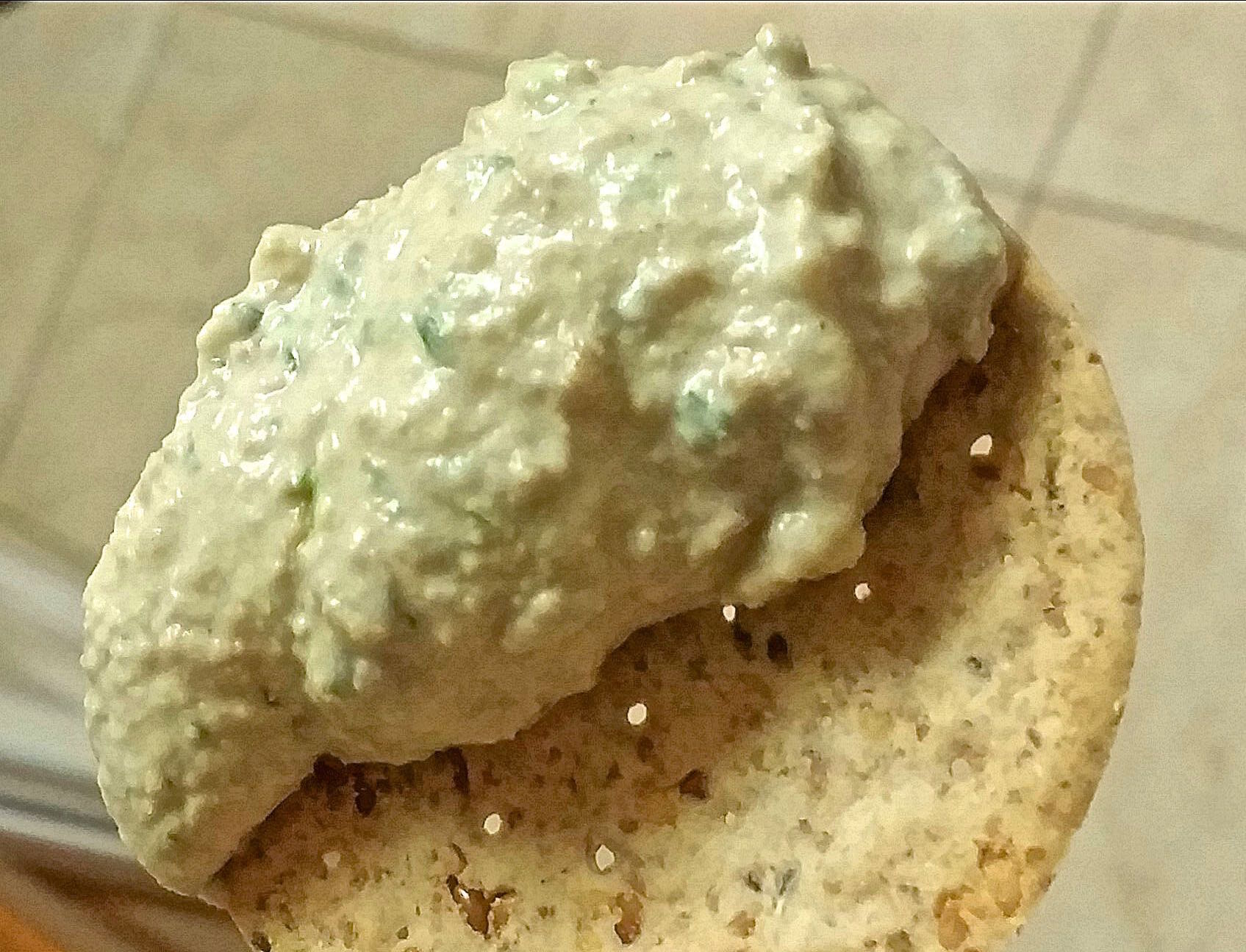 Put into food processor or blender:

2 cups sprouted lentils, or 2 cups cooked brown lentils (probably any color is good!)
1 cup tahini (highly recommend ethiopian or israeli)
juice from 1 small lemon
3-4 garlic cloves
2 tbsp onion powder
pinch of salt
one handful chopped cilantro
tiny bit of water, add as needed, JUST enough to blend well
Veggie and/or Fruit Muffins
(good recipe for the shredded veg/fruit that is left over from juicing)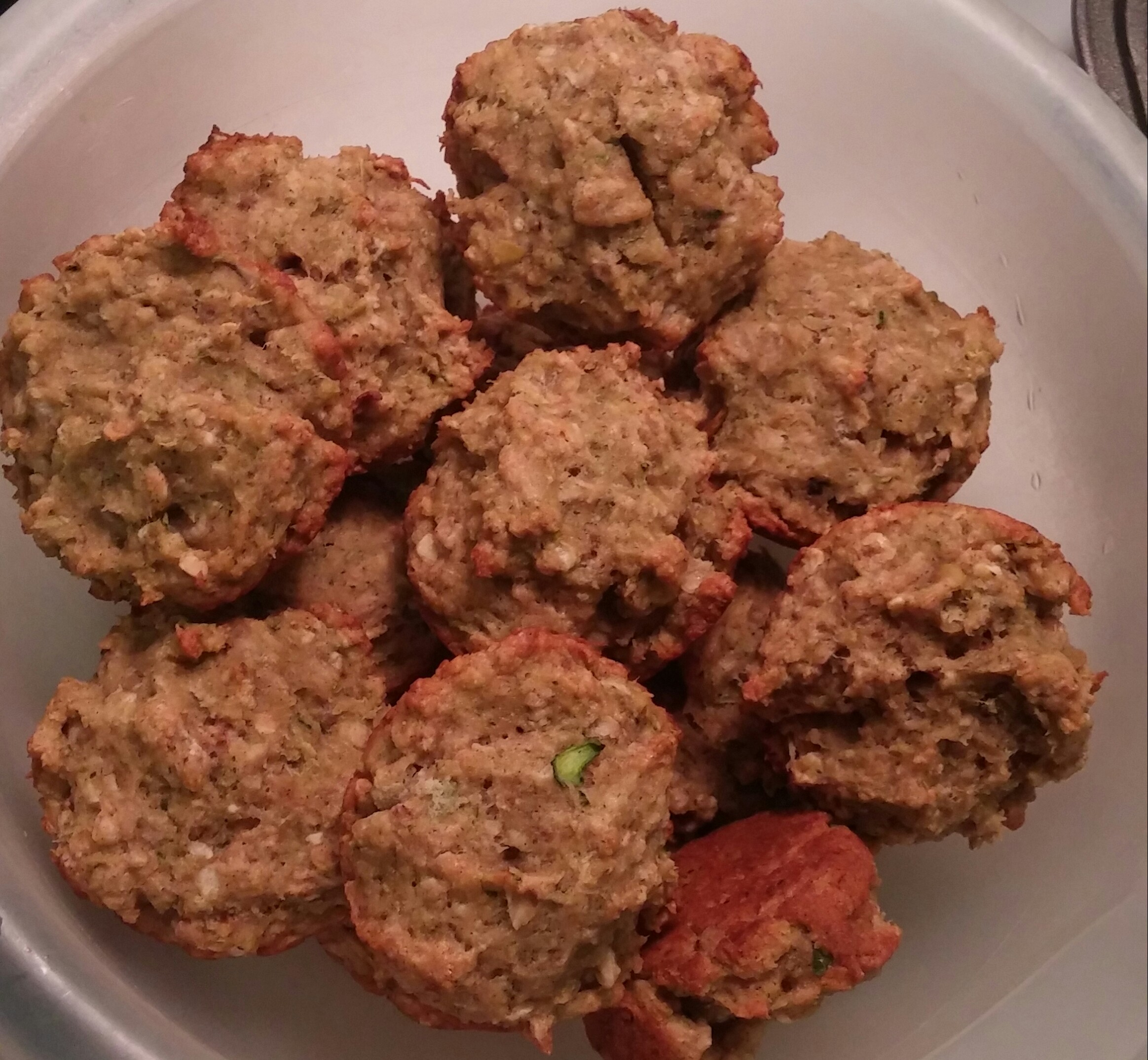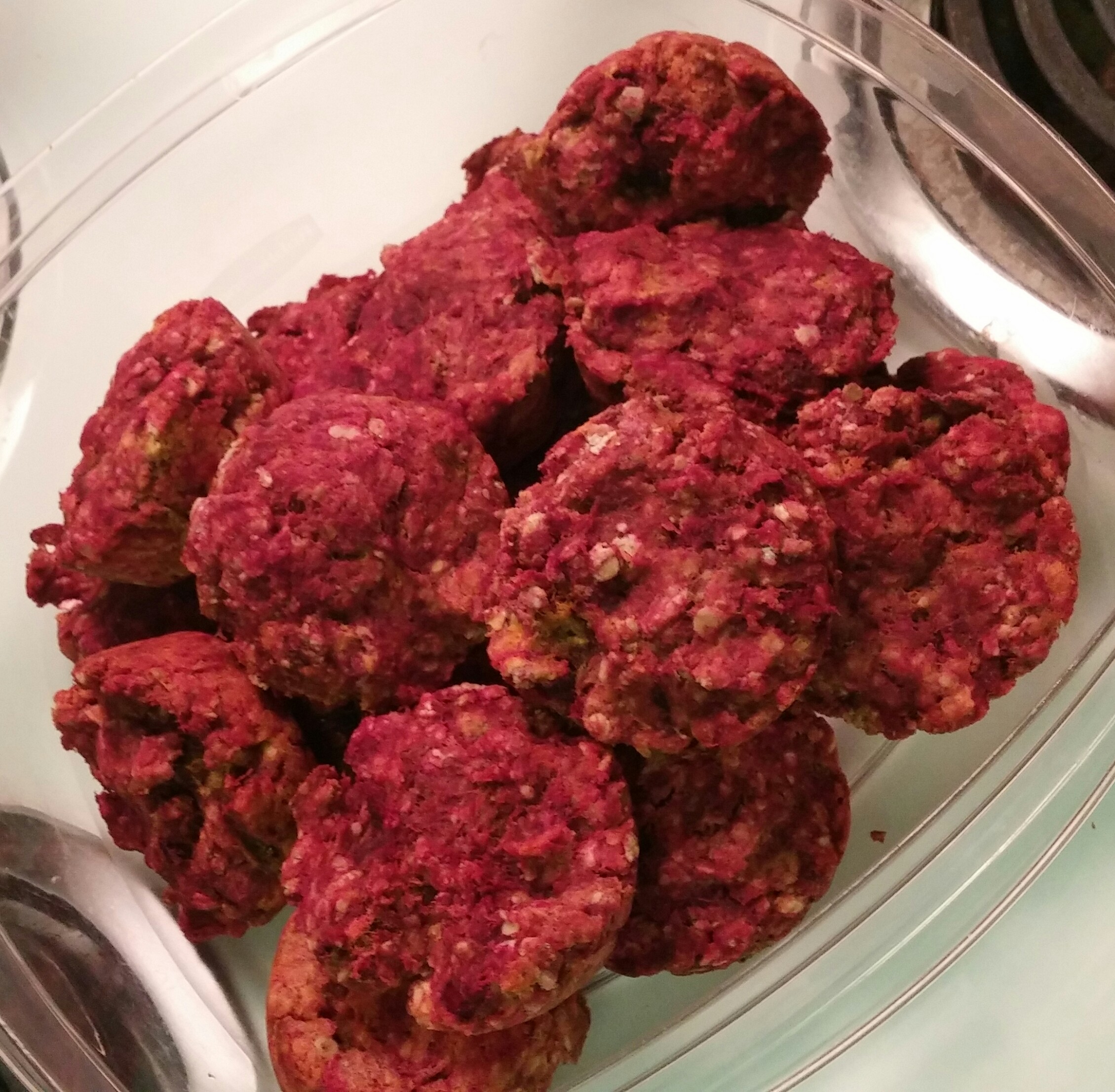 left pic = zucchini-apple, right pic = beet-carrot

Preheat oven to 350 deg.
Mix dry ingredientns in large bowl:

1.5 cup oats
1.5 cups flour
1/2 cup sugar
2 tsp baking powder
2 tsp cinnamon
1/2 tsp salt

Mix liquids in small bowl:

2 tsp vanilla
2 tsp egg replacer powder
1/3 cup water or milk of choice (soy, coconut, cashew, hemp, whatevs)
1/3 cup oil of choice (I like coconut)

Pour liquid mixture in with dry ingredients. Then add 2 cups grated/shredded veg and/or fruit. Here are some ideas:

1 cup apple, 1 cup zucchini
OR
1 cup zucchini, 1 cup carrot
OR
1 cup carrot, 1 cup beet
OR any other combo
Coat muffin tin with oil and fill with batter. Bake for 23-25 mins at 350 deg.
Quick Chick Pea Salad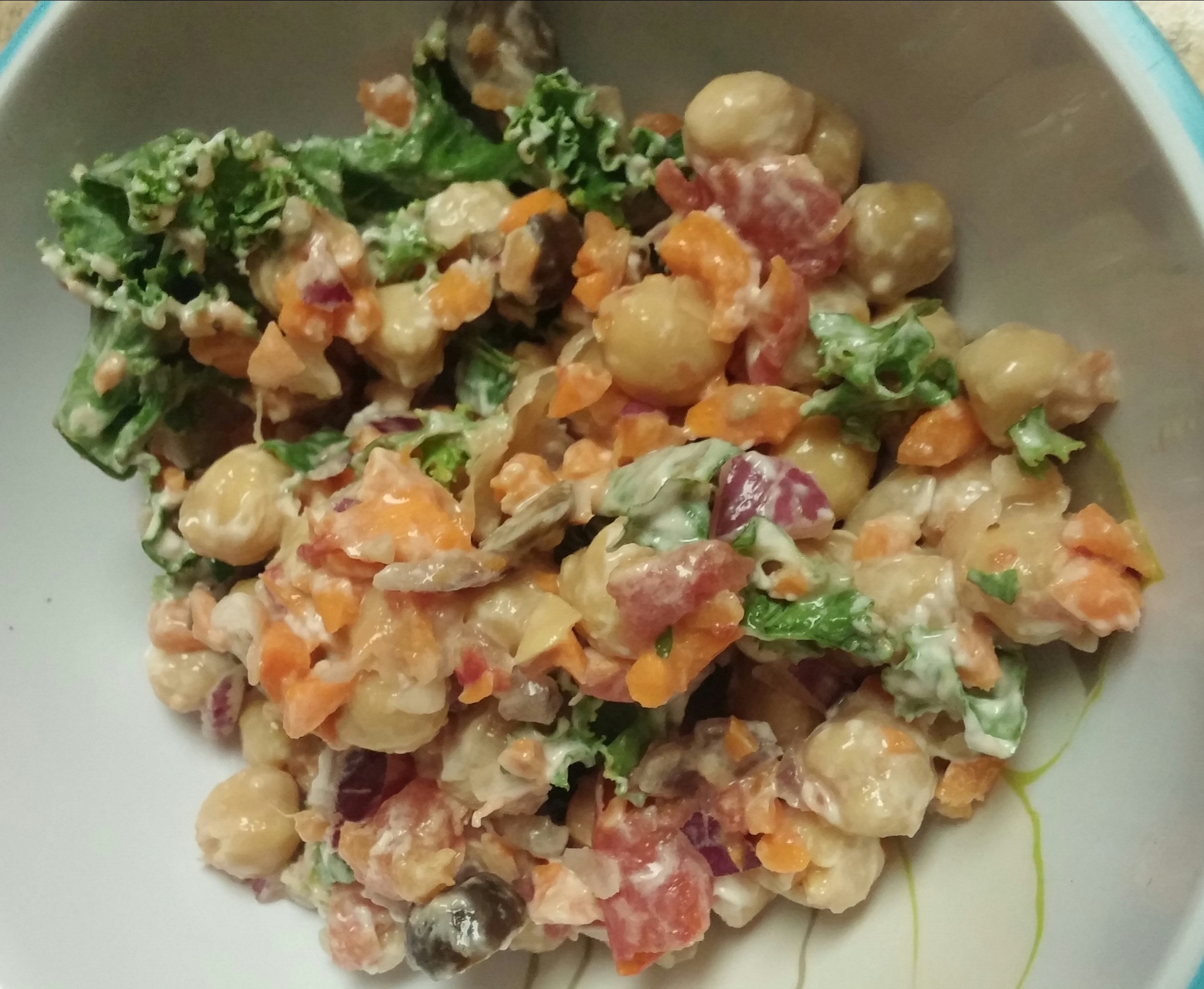 Mix in large bowl:

2 cans well-rinsed chick peas
8-10 baby carrots shredded in blender or chopped
1/2 red onion chopped
2-3 small salad tomatoes chopped
3 celery sticks chopped
enough chopped kale and/or basil to look nice (eyeball it)
enough sliced olive pieces to look nice

Pick your spices to taste: paprika, onion powder, mustard powder, salt, pepper, and/or nutritional yeast
I prefer to refrigerate without adding any sauces, then add sauces on serving (stays good longer). For sauces, pick your preference(s) to taste: vegan mayo, dijon mustard, and/or tahini. My favorite sauce is the Peanut Tahini Sauce seen below (scroll down to soba noodle recipe, same sauce is great here too!)
Quick Soba Noodles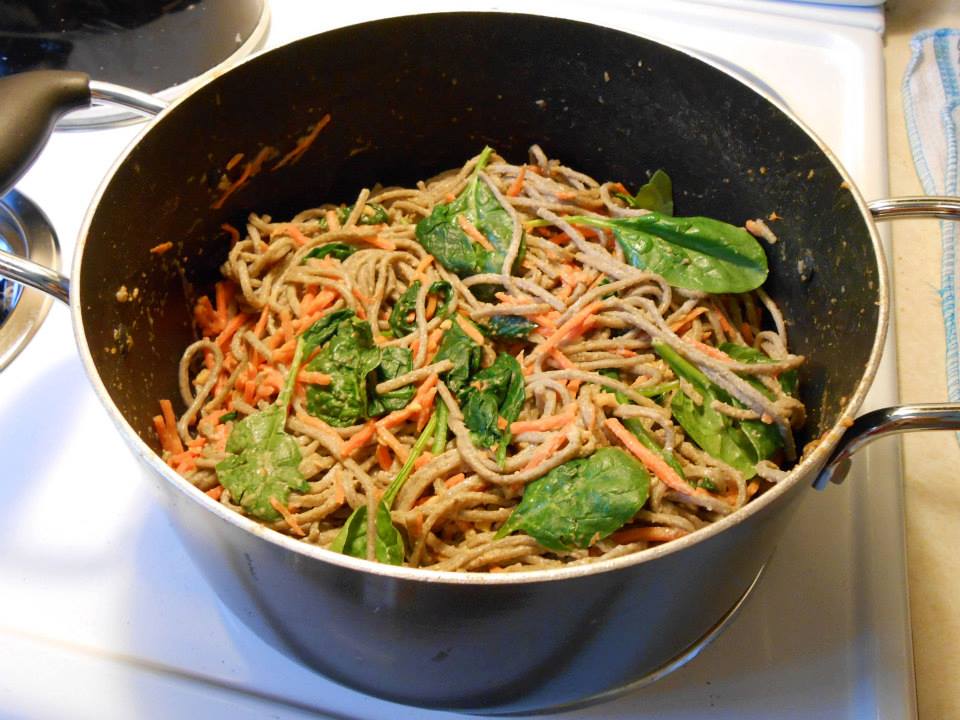 Cook a 12oz box of soba noodles according to directions
In last minute or so of cooking, add to water spinach and julienned carrots. Drain when veggies tender and pasta cooked.
Make Peanut Tahini Sauce:
Mix the noodles and veggies with the sauce.
This dish is great with nutritional yeast and black pepper !
Mac and Cheeze (Pic shows cauliflower & potato version)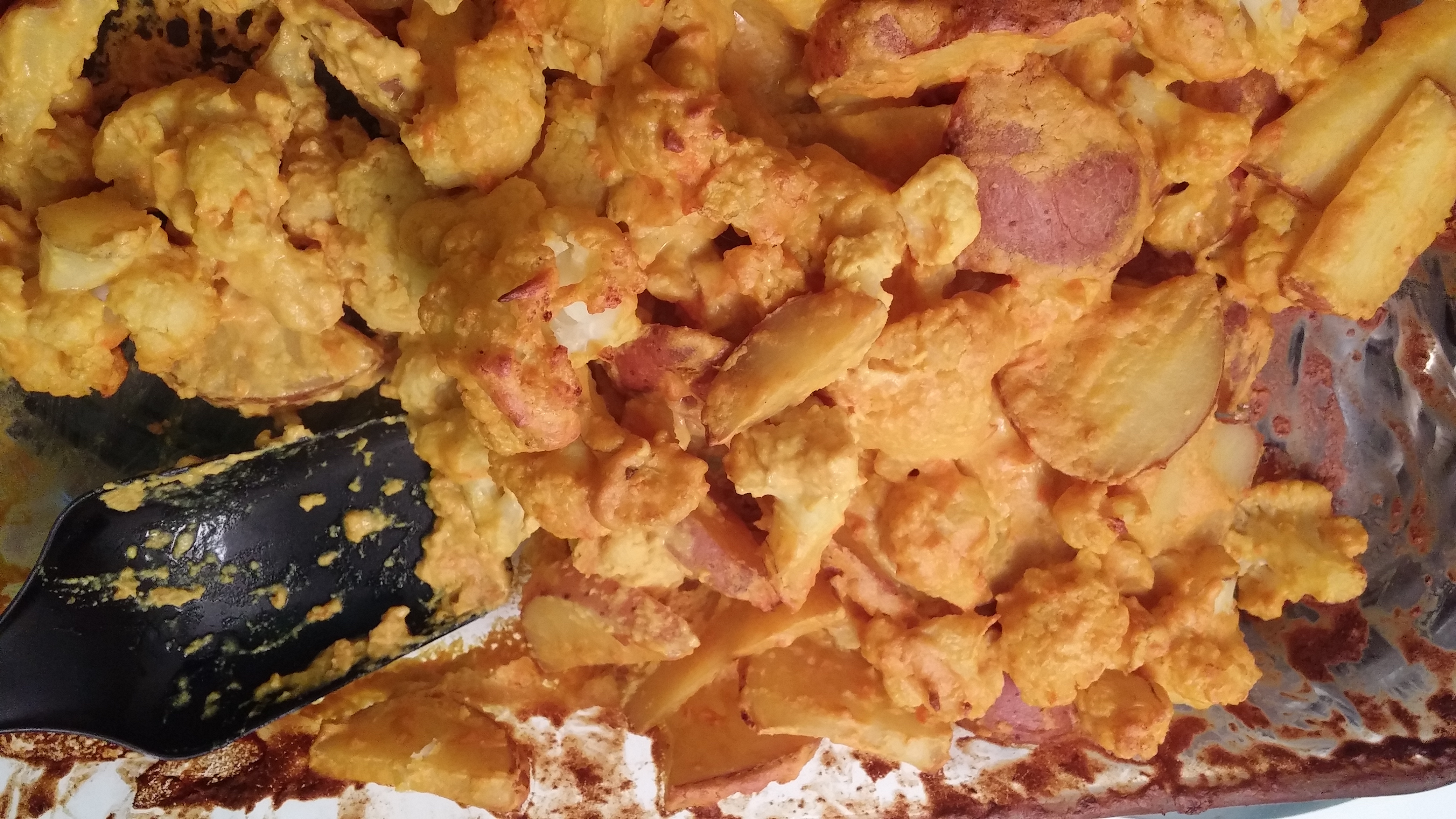 I've tried many different versions of vegan mac and cheeze, the most successful of which came from the
VeganYumYum site
. Eventually I came to slightly modify the recipe based on the ingredients and dish size that have the highest probability of being found in my kitchen. Here goes, this makes 8 servings:
Preheat oven to 400 deg.
If you want the pasta version, make one 16oz package of brown rice pasta according to package, but cook for 2-3 minutes less than instructions (it will finish cooking in the oven). Any pasta is ok here.
If you want the cauliflower version, cut up one large cauliflower head into small pieces. Then boil the pieces for about 5 minutes (it will finish cooking in the oven).
If you want the potato version, cut up 7-8 medium size potatoes. Then boil for about 5 minutes (it will finish cooking in the oven).
Mix the following cheeze sauce ingredients in food processor or blender:

handful of raw unroasted/unsalted cashews
1/2 can chickpeas
1 small carrot
one inch x one inch small cut piece of daiya gouda style vegan cheese
2 tbsp Earth Balance margarine
2 tbsp miso
2 tbsp tahini
2/3 cup nutritional yeast
2 tbsp tomato paste or 2 small salad tomatoes
1 tsp dijon mustard
1 tsp garlic powder or fresh garlic
1/2 tsp paprika
1 tsp tumeric
small amount of water, just enough to blend smoothly

Mix partially cooked pasta or cauliflower with cheeze sauce in 2 quart casserole dish.
Optionally top with bread crumbs.
Bake for 20-25 minutes.
Potato Salad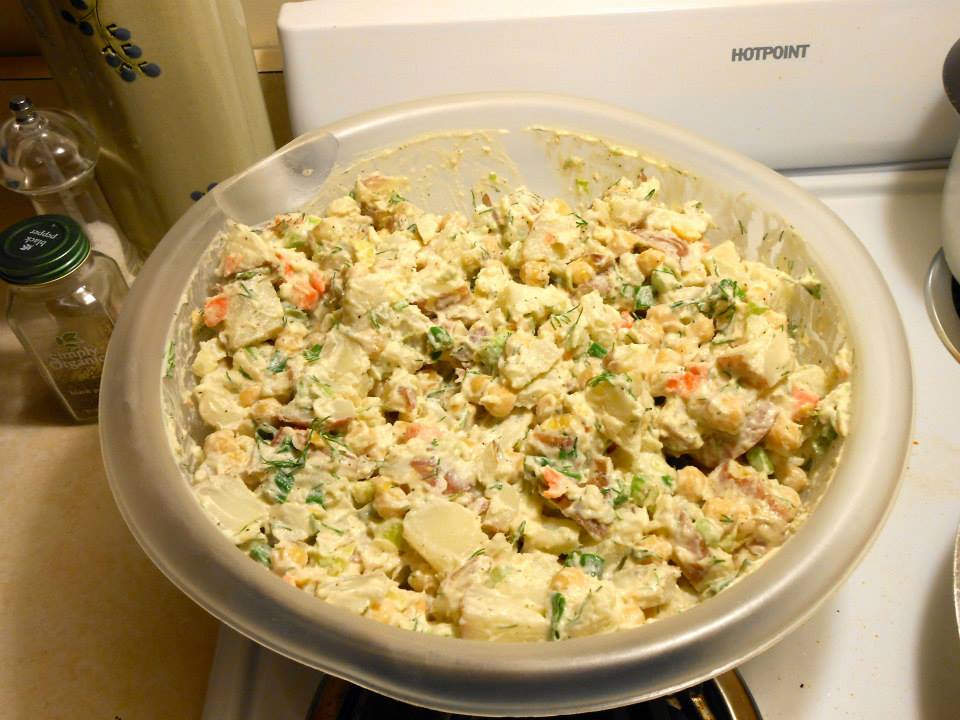 Clean and cut 3lbs of potatoes into 1 inch cubes, then boil in large pot for 20-25 minutes or until pleasantly tender and eatable. Most recipes comment here that the cubes must be evenly sized or else the salad can be part crunchy part mushy -- slight variances are OK I think, but big differences in size may have an effect.
Drain potatoes and let cool.
Combine in large bowl:

2 finely diced celery stalks
1 finely diced large carrot
1 finely chopped small onion
1 15oz can of chickpeas, rinsed
1 cup veganaise
1/4 cup chopped fresh dill
1 tsp mustard powder
2 tbsp nutritional yeast flakes
1/2 tsp onion powder
1 tbsp paprika
salt and pepper to taste

After potatoes completely cooled, mix potatoes with other ingredients.
Eat same day. Potato salad is not a food that ages well!
Quiche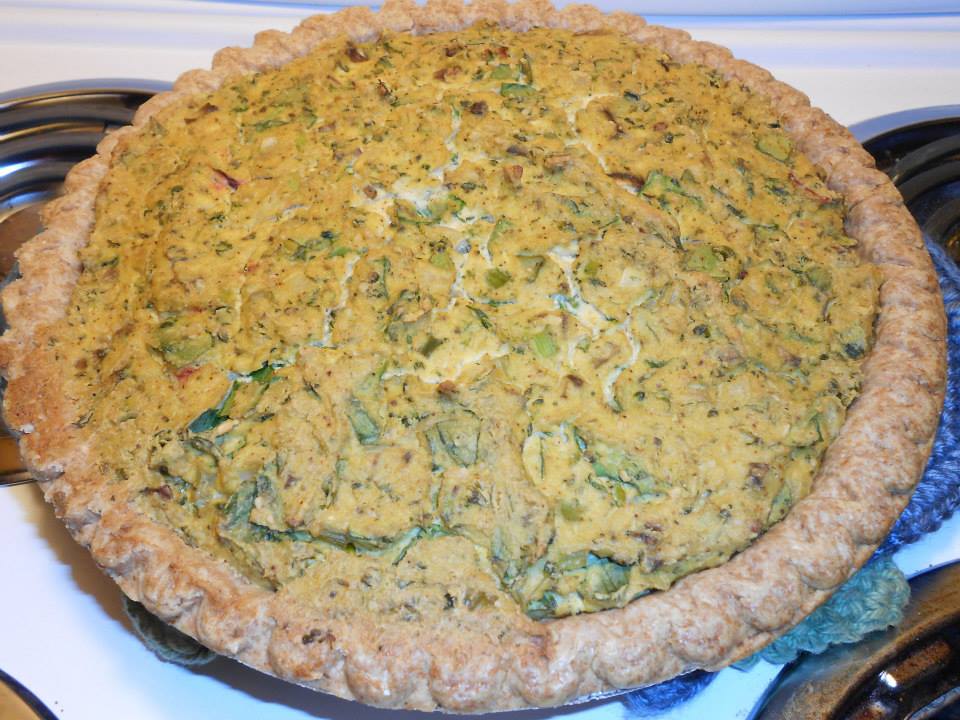 Preheat oven to 375 deg.
In skillet saute the following until fragrant. Don't overcook here as some additional cooking will take place in the oven.

2 tbsp oil
2 cloves garlic
1 finely diced small onion
5-6 finely diced baby bella mushrooms
2 cups chopped spinach leaves
1 finely diced large carrot
4-5 finely diced brocolli florets
10 chopped fresh basil leaves

In food processor, blend the following ingredients in the following order (dry first, wet later):

1/2 cup raw unsalted cashews
1/2 cup nutritional yeast flakes
1 tsp oregano
1 tsp curry powder
1 tsp paprika
1 16oz package firm tofu
1/2 block vegan gourmet cheese
few tbsp unsweetened vegan milk, just enough to help the blending -- not too much or quiche won't firm up later
salt and pepper to taste

Mix up the sauteed ingredients and processed ingredients, then plop it all into a vegan pie crust. I like to use a store-bought crust -- you can also find or make a gluten free crust.
Bake for 45-50 minutes until toothpick inserted comes out mostly clean.
Quick Chili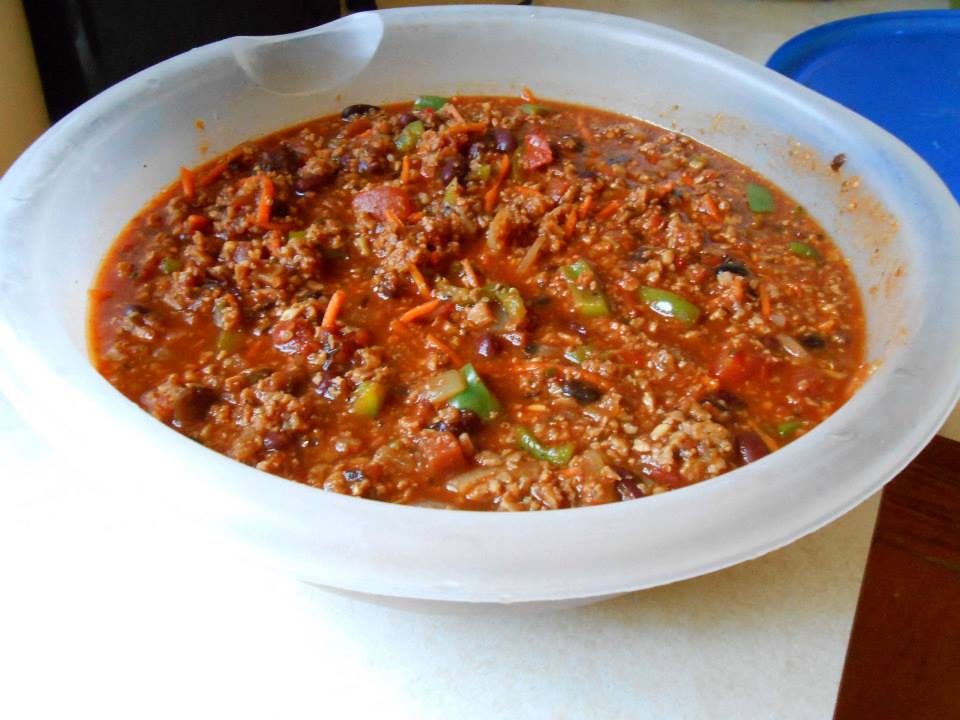 Make this box of chili (just boil, and add tomatoes and tvp as instructed).
Chop and saute separately:

garlic
2 carrots
1 onion
2 green peppers

Mix all together.
Stuffed Zucchini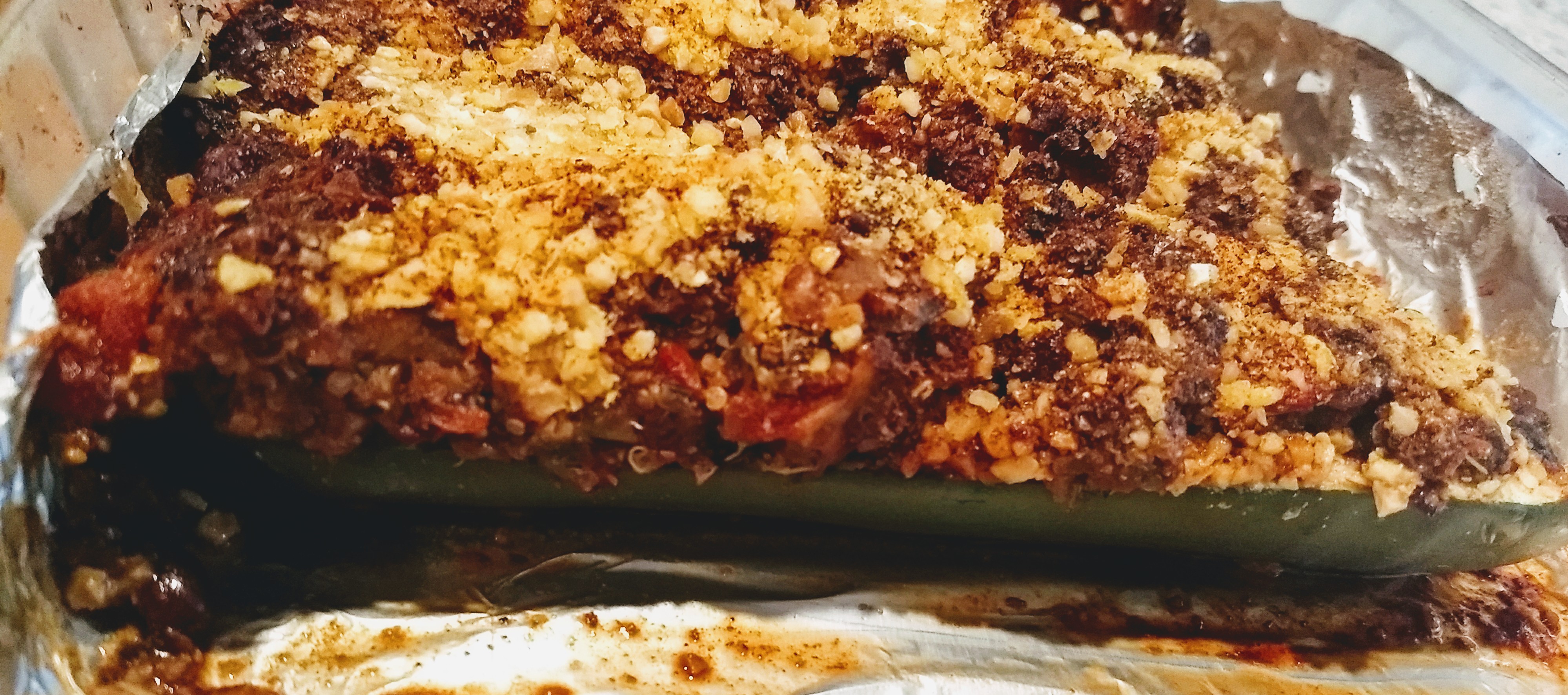 Slice in half 3 large size zucchinis and bake them with a small amount of water in the pan at 375deg for 5 minutes to soften.
Make chili recipe above.

For a more paleo-friendly version of the chili replace tvp with veg such as riced broccoli.
Scrape out the insides of the softened zucchinis. You can add this to the chili or use it for juicing.

Fill zucchinis with chili mix.
Top with breadcrumbrs or garlic-cashew-nutritional-yeast powder (I made this with a food processor. I didn't measure.).
Bake at 375 deg for 35-40 mins.
Deviled "Eggs" ... that are really potatoes

This recipe came from my sister -- I'm not sure where she found it but everyone in the family was raving about these snacks!
Preheat oven to 350 deg.
Peel and half 6 new potatoes. New potatoes are also called Klamath Potatoes -- they should be sort of egg shaped.
Grease a cookie sheet.
Coat all sides of each potato with olive oil. Place potatoes face down on the cookie sheet.
Bake for about 45 minutes, or until soft (but not too mushy).
While the potatoes are roasting, mix together:

4 tablespoons vegan mayonnaise
1 teaspoon yellow mustard
1 to 2 tablespoons finely chopped onion
dash hot sauce
dash garlic powder
salt and pepper to taste
dash turmeric, optional, for yellow color

When the potatoes are done, allow to cool a bit, and then use a sharp knife to cut into the flat side of each potato and hollow it out with a spoon. You want to be left with a little cup-shaped potato.
Add the scooped-out potato mash to your mayo/mustard mix and blend well. You can then fill the hollowed out potato shells with the mixture -- pipe it on with a cake decorating bag or just blop it in there.
Dust each potato with paprika.
Avocado Garbonzo Salad for lettuce wrap

Here's a picture (I forgot the lettuce wrap!).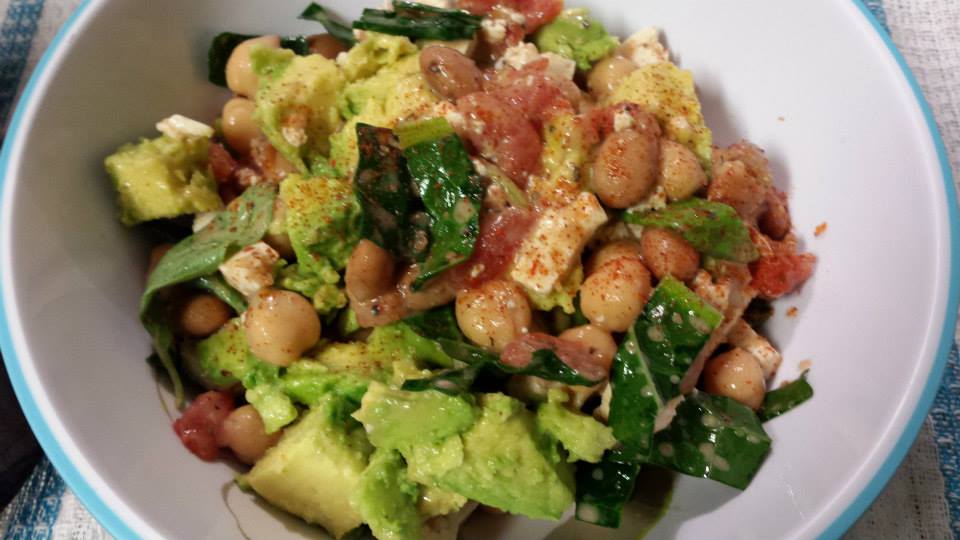 First marinate the "vegan feta" by letting the following items sit in a bowl for 10 minutes:

1/2 block of firm tofu, cubed
2 tbsp olive oil
2 tbsp lemon juice
1 tsp oregano or other green spice
few dashes of black pepper
Mix in a bowl the following items:

vegan feta (see above)
1 can of rinsed, drained pinto beans
1 can of rinsed, drained chick peas
1 can of rinsed, drained tomatoes (chop if necessary)
1/2 big white onion, chopped (maybe 1 red onion chopped would be better...)
2 cups of raw kale, sliced into strips
2 handfuls of fresh basil leaves
1 tbsp Annie's dijon mustard
The above mix will hold well in the fridge! Before serving add to individual dishes:

diced avocado
dust paprika on top